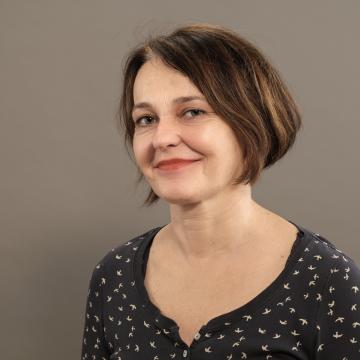 Cabinet
TAJNIŠTVO KNJIŽNICA PRIMERJALN
Svet je izgubljen, nazaj ga je mogoče pridobiti s samoovedbo.
Department of Comparative and General Linguistics
Libr. Mag. Ana Mehle
Rojena je bila 21. aprila 1962 v Lendavi. Maturirala je na Gimnaziji  Juš Kramar v Murski Soboti. Diplomirala je 1987 na Filozofski fakulteti v Ljubljani iz filozofije in primerjalne književnosti. Decembra 1989 se je kot pripravnica zaposlila v knjižnici Oddelka za filozofijo. Od decembra 1990 je bibliotekarka in strokovna sodelavka na Oddelku za primerjalno in splošno jezikoslovje Filozofske fakultete v Ljubljani.
Leta 1990 je je na željo zaslužnega profesorja, prijatelja in mentorja prof. dr. Franeta Jermana pripravila otvoritev Meinongove knjižnice ob počastitvi 100-letnice rojstva Franceta Vebra in razstavo knjižnega, arhivskega in slikovnega gradiva. Šlo je za filozofsko in osebno rehabilitacijo univerzitetnega profesorja in akademika Franceta Vebra na Filozofski fakulteti Univerze v Ljubljani. Naslednje leto se je en mesec izpopolnjevala v Gradcu na Forschungstelle für Oesterreichische Philosophie. Leta 1993 je v imenu Oddelka za primerjalno in splošno jezikoslovje obiskala Husserl-Archiv v Leuvenu. Leta 1994 je v Debrecenu na Madžarskem izpopolnjevala svoje znanje madžarščine. Leta 1998 izdala knjigo o Meinongovi knjižnici. Leta 2000 je po dogovoru s predstojnikom oddelka, akademikom Janezom Orešnikom, iz Mainza na oddelek pripeljala hetitološko knjižnico eminentnega hetitologia Silvina Košaka. 2001 je po dogovoru s predstojnikom oddelka na oddelek pripeljala knjižnico pokojnega akademika prof. dr. Bojana Čopa. 13. 3. 2001 je na osnovi pozitivno ocenejenega dela in izpolnjevanja določil (od 77. do 88. člena) Samoupravnega sporazuma o pridobivanju strokovnih kvalifikacij bibliotekarske stroke pridobila strokovni naziv bibliotekar specialist. Ob 10. obletnici splošnega jezikoslovja je 25. oktobra 2001 organizirala prireditev. Ob tej priložnosti je pripravila razstavo knjižnega, arhivskega in slikovnega gradiva o zgodovini in dejavnosti Oddelka za primerjalno in splošno jezikoslovje. Leta  2003 je na Oddelku za filozofijo uspešno zagovarjala magistrsko delo z naslovom Možnosti fenomenološke estetike. Leta  2008 je  prejela Veliko priznanje Filozofske fakultete. Marca 2017 je pri znanstveni založbi FF izdala knjigo: Slovenska filozofska bibliografija 1970-1980. Knjiga je bila deležna tudi s strani Library of Congress  v Washingtonu lepega odziva. Med 22. in 27. 5 2017 se je izobraževala na Univerzi Eötvösa Loránda v Budimpešti (razpis  Erasmus+(Staff Mobility Agreement). 11. maja 2017  se je aktivno udeležila delavnice  o Poslanstvu Filozofske fakultete. 24. septembra 2019 se je s prof. dr. Andrejem Uletom aktivno udeležila simpozija ob 100. obletnici FF s prispevkom: Vloga Vebra in Meinongove knjižnice pri začetkih študija filozofije na Filozofski fakulteti v Ljubljani.
http://www.worldcat.org/identities/lccn-n2005063576/
Trije članki v tisku.
·
---
MONOGRAFIJI (obe sta neposredno povezani s FF, prva s FF od ustanovitve univerze do 1945, druga s FF ob njeni zasedbi v sedemdesetih letih)
4. MEHLE, Ana. Slovenska filozofska bibliografija 1970-1980. 1. izd. Ljubljana: Znanstvena založba Filozofske fakultete, 2017. 538 str., ilustr. ISBN 978-961-237-896-7. [COBISS.SI-ID 289063680]
5. MEHLE, Ana. Slovenska filozofska bibliografija 1970-1980. 1. izd., elektronska izd. Ljubljana: Znanstvena založba Filozofske fakultete, 2017. ISBN 978-961-237-901-8. http://www.ff.uni-lj.si/sites/default/files/Dokumenti/Knjige/e-books/slovenska_filo_biblio.pdf. [COBISS.SI-ID 289242624]
6. MEHLE, Ana. Meinongova knjižnica v Ljubljani = Die Meinong-Bibliothek in Ljubljana, (Razprave Filozofske fakultete). Ljubljana: Znanstveni inštitut Filozofske fakultete, 1998. 418 str., ilustr. ISBN 86-7207-107-7. [COBISS.SI-ID 78902016]
2.09 Magistrsko delo
7. MEHLE, Ana. Možnosti fenomenološke estetike : Vebrova estetika : magistrsko delo. Ljubljana: [A. Juvančič Mehle], 2003. 117 f., ilustr. [COBISS.SI-ID 25399906]
 
2.11 Diplomsko delo
8. MEHLE, Ana. Fenomenološka estetika Romana Ingardna in strukturalna estetika Jana Mukařovskega glede na bistvo literarne umetnine : diplomska naloga. [Ljubljana: A. Mehle, 198?]. 1 mapa. [COBISS.SI-ID 29344866]