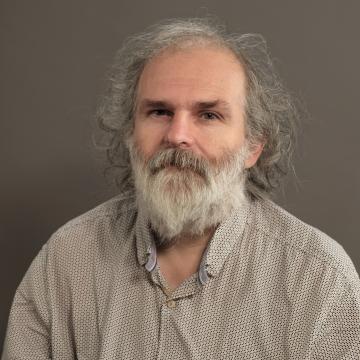 Office hours
2.30-3.30 p.m. on Tuesdays.
Cabinet
307 ZAVETIŠKA
Department of Ethnology and Cultural Anthropology
Prof. Rajko Muršič
Prof. Rajko Muršič (r. 1963),
Rojen leta 1963 v Mariboru, diplomiral iz etnologije in filozofije (1991), magistriral iz kulturne antropologije (1995) in doktoriral iz etnologije (1998). Leta 2009 je bil izvoljen v naziv rednega profesorja. Bil je glavni urednik Glasnika SED in njegove knjižne zbirke (1994-1997) ter ustanovitelj ter urednik oddelčne zbirke Zupaničeva knjižnica (1999-2002). Je član dobrega ducata mednarodnih (osem let je bil član IO IUAES) in domačih strokovnih društev (od 2012 do 2018 predsednik združenja Kula), teles in uredništev ter redno sodeluje pri pripravi mednarodnih znanstvenih srečanj in poletnih šol (Creole IP in poletne šole v grški Konitsi). 
Pedagoško delo (obvezni predmeti)       
Prva stopnja: Metodologija etnologije in kulturne antropologije, Teorije kulture, načini življenja in identitete, Sorodstvo in družbena struktura 
Druga stopnja: Epistemologija vsakdanjega življenja 
Tretja stopnja: Metodološki izzivi etnološkega in antropološkega raziskovalnega dela
Izdal je osem monografij (vse v slovenščini). Njegovi strokovni interesi obsegajo antropologijo (popularne) glasbe, samonikla prizorišča, čutno antropologijo, teorije kulture, metodologijo, epistemologijo, urbano antropologijo, ustvarjalnost, egalitarnost, raso in rasizem, antropologijo v Evropi, zgodovino vede, antropologijo prostora, teorijo in filozofijo znanosti, identitete in še marsikaj. Regionalna zanimanja vključujejo Slovenijo, srednjo in jugovzhodno Evropo (Balkan) ter globalne tokove popularne kulture (terensko delo je opravljal v Sloveniji, na Poljskem, v Makedoniji, Nemčiji in na Japonskem).
Sodeluje kot izvedenec in raziskovalec v mednarodnem projektu senzorične raziskave v treh evropskih mestih Sensotra (Sensory Transformations and Transgenerational Environmental Relationships in Europe, 1950-2020) na Univerzi Vzhodne Finske (2016-2021; Financira ga Evropski raziskovalni svet, ERC). Kot raziskovalec sodeluje tudi v raziskovalnem projektu Glasba in politika v post-jugoslovanskem prostoru: k novi paradigmi političnosti glasbe na prelomu stoletij (pod vodstvom Inštituta za kulturne in spominske študije pri ZRC SAZU; 2018-2021, financira ga ARRS)
Je glavni avtor knjige Na trdna tla: Brezsramni pregled samoniklih prizorišč in premislek nevladja mladinskega polja (UPB, Koper in Tolmin, 2012) in Glasbenega pojmovnika za mlade (Aristej, Maribor, 2017).
Compulsory Courses
Elective Courses