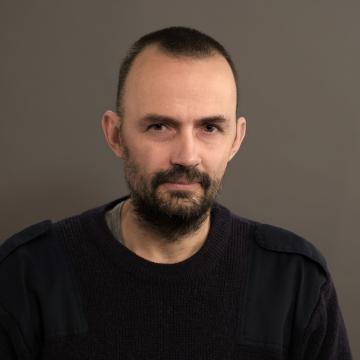 Department of Archaeology
Assoc. Prof. Andrej Gaspari
associate professor Andrej Gaspari, PhD in archaeological sciences
Andrej Gaspari, b. 1973 in Ljubljana, graduated in 1996 at the Faculty of Arts, University of Ljubljana, with a work on Roman bridges in Slovenia. In 2003, he defended his PhD thesis on Late Iron Age and Early Roman finds from the River Ljubljanica. From 2015, he is associate professor for Roman Archaeology at the Department of Archaeology of the same university.
Over the last two decades, he has led or collaborated on over eighty archaeological excavations in Slovenia and abroad, the most important being the preventive excavations of Roman sites in Celje/Celeia (2003/2004) and Ljubljana/Emona (2003–). As an experienced archaeologist-diver and head of the expert Underwater Archaeology Workgroup, part of the Institute for the Protection of Cultural Heritage of Slovenia, he is intensely engaged in the research of underwater sites in continental waters and the maritime domain, which includes collaboration in a number of international projects.. His tasks during the previous employment at the Slovenian Ministy of Culture, Directorate for Cultural Heritage, where he held the position of undersecretary in the 2010–2014 period, included assesing challenges in the field of preventive archaeology and developing sectoral policies.
From 2007, he is also a member of the International Committee on the Underwater Cultural Heritage at ICOMOS, and a member of the Scientific and Technical Advisory Body at the UNESCO Convention on the Protection of Underwater Cultural Heritage (2009–2013 and 2019–).
His bibliography comprises over 180 scientific and professional publications, as well as public lectures. His primary fields of interest are the ancient Mediterranean and continental shipbuilding traditions, the archaeology of the Late Iron Age and Early Roman period between northern Italy and the western Balkan, the late prehistoric and Roman votive practices and cult sites, the history and material culture of the Eastern Celts and peoples in the hinterland of the Northern Adriatic, the early presence of Roman army, trade and acculturation patterns at the eastern border of Gallia Cisalpina, Roman urbanism, planning and infrastructure, specifically in connection with Roman Emona, but also at other sites in the southeastern Alpine area.
His more important recent works include the (co)-authorship/authorship of the exhibition catalogue The Ljubljanica – A River and its Past (2009), "Apud horridas gentis...": Beginnings of the Roman Town of Colonia Iulia Emona (2010), Prehistoric and Roman Emona: a Guide through the Archaeological Past of Ljubljana's Predecessor (2014), Water in Roman Emona : Development of the water supply system and communal infrastructure of Roman cities: the case of Colonia Iulia Emona (2016) and The late 2nd century B. C. logboat from the Ljubljanica river at Vrhnika : study on the ships and boats of Preroman and Roman Nauportus with the outline of the navigation on the Ljubljana marshes between prehistory and the early modern period (2017).
Compulsory Courses
Elective Courses